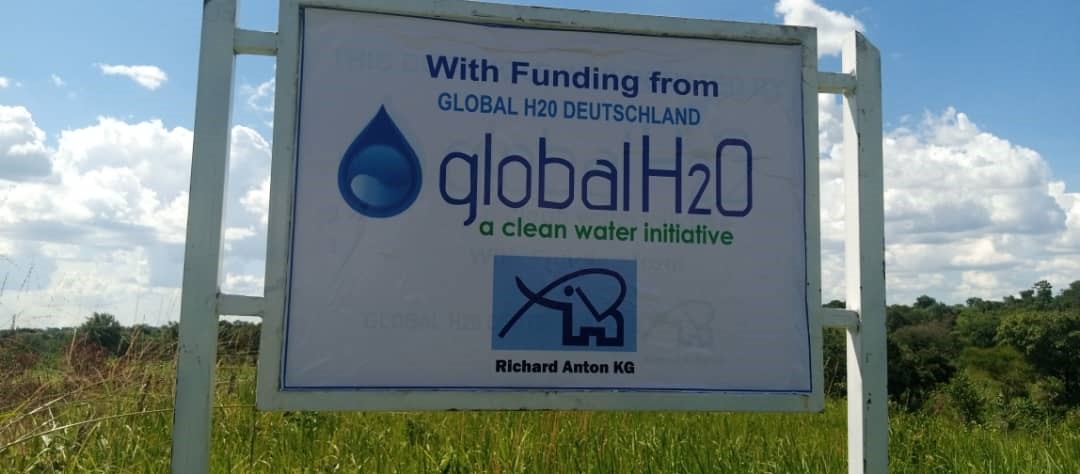 Global H2O – Interview with Florian Mader; Owner and managing director of Richard Anton KG
SINCE 2011
Richard Anton KG has been supporting GlobalH2O with over EUR 60,000. In 2023, a well in northern Uganda, southwest of Gulu, was completed with the help of the family-run company. Based on this fact we wanted to talk to the managing director, Florian Mader, about his involvement with GlobalH2O. We reach him and his assistant, Ms. Nadja Siebler, on the phone.
The two of them still remember when Jamie Wilde (founder of GlobalH2O) first visited their company. In the trunk of his car, he brought a yellow canister of the kind that the women of Africa actually use to balance on their heads when fetching water. While carrying the canister, his father, Richard Mader, quickly realized: a container like this is heavy even when empty. How are women supposed to carry it filled with water for miles across the countryside? The interest in GlobalH2O was aroused…
GLOBALH2O: MR MADER, WHY DID YOU CHOOSE YOUR COMMITMENT TO GLOBALH2O?
Florian Mader: Ms. Siebler met the founder of GlobalH2O, Jamie Wilde, at a workshop and seminar. She told us about his project. I then invited him over. Jamie Wilde came to our company headquarters in Gräfelfing and presented his organization to us. He gave a detailed explanation, completed by an impressive photo presentation, from the planning of a well continuing with the drilling up to the completion and the happy faces of the people who lived there and finally had access to clean water. This presentation left an impression on us.
GLOBALH2O: WAS THERE ANYTHING ELSE THAT MADE YOU DONATE TO GLOBALH2O?
Florian Mader: The fact that we knew the Eichbauer family (Tantris) certainly contributed to our decision, as they had been supporting the project with private donations for years. We were invited to GlobalH2O's Thanksgiving dinner. The Eichbauer family took the opportunity to tell us about their experiences in Uganda. They visited the country to personally attend the construction of a well there. Their stories, along with Jamie's presentation, convinced us.
GLOBAL H2O: DOES YOUR ENTIRE STAFF DONATE, OR DO YOU PERSONALLY DETERMINE THE BUDGET?
Florian Mader: Back then, the staff also donated, but I usually set the budget personally and donate through my company. Every year we donate a 5-figure amount to several organizations, but a large portion of that still goes to Global H2O. We celebrated our 111th company anniversary in 2015, where we asked our guests to donate. This campaign also raised a considerable amount.
GLOBALH2O: SO YOU ARE COMMITTED TO MANY CHARITY PROJECTS WITH YOUR COMPANY. WHAT IS IMPORTANT TO YOU WHEN CHOOSING AN ASSOCIATION?
Florian Mader: First of all, we want to be absolutely sure that the money actually goes where it is needed. Of course, there are always administrative costs that need to be deducted, but at GlobalH2O we know that the organizers work on a voluntary basis and almost 100% of the donations are invested in the construction of the wells. Global H2O has also done a lot to ensure that we remain loyal to them. They keep us up to date, send us photos, invite us to Thanksgiving dinner where they present past and current projects. Every well we fully funded has been endowed with a plaque showing our logo. Of course that makes us proud!
In short: We get feedback, which is often not the case in larger associations. This feedback creates trust and loyalty.
GLOBALH2O: CAN YOU IMAGINE TRAVELING TO UGANDA YOURSELF TO ASSIST THE CONSTRUCTION OF A WELL?
Florian Mader: Absolutely. It's not a lack of interest, but rather a lack of time. Besides our children (9 and 12 years old) are still a bit too young for such an adventure trip.
MR MADER, THANK YOU VERY MUCH FOR THE INTERVIEW.
About the person: Florian Mader is the fourth generation to run Richard Anton KG, headquartered in Gräfelfing near Munich. It is a world-leading, medium-sized company that is 100% family-owned and specializes in the processing of high-quality carbon products for a wide range of industrial sectors. Florian Mader is married and has two children